Most couples love camping. Imagine a sky full of twinkling stars, the soft sounds of crickets and rustling leaves, and the peace of a forest glowing with the warmth of a bonfire that drives away the cold.
Now imagine there were discussions with laughter and shared moments of love between two individuals whose hearts are in perfect harmony.
In a world where gadgets and schedules work often eclipses real conversation, couples' camping vacations provide a valuable opportunity to unplug and rediscover the beauty of simplicity.
It's an opportunity to step away from the stresses of everyday life and embrace an experience that develops relationships, rekindles romance, and creates lasting memories. It Is quite complicated for beginners, so we will discuss the Beginner Guide to Disperse Camping so that new travelers Can get help. Here are 100 Tips For Unforgettable Couple Camping Adventure.
Camping season is a great time for the outdoors. It allows children to connect with nature and make enduring memories. But when does the camping season officially begin? The answer is determined by where you reside and your camping habits.
Romantic Couples Camping Ideas
The magic of love in the great outdoors! Explore our handpicked romantic camping ideas that will help couples create unforgettable moments under the starry skies. From candlelit dinners to stargazing and love letters in the wilderness, find inspiration for your next camping adventure with your special someone.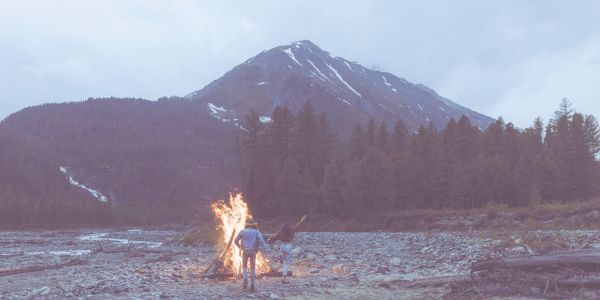 1. Candlelit Dinner in the Wilderness
Imagine a table for two in the middle of the forest, softly lit by candles. Prepare a special dinner for your spouse under the sky. Prepare a nice lunch around the campfire or pack a picnic basket with your favorite savory foods. Don't forget to bring a bottle of wine or champagne to celebrate your love.
2. Stargazing by the Campfire
Camping offers a unique opportunity to experience stargazing without artificial light. Lay out a soft blanket or bring some heated camp chairs and spend the evening stargazing. Even better, you can bring along a stargazing app to add an educational element to your romantic evening by helping you identify stars and planets.
3. Sunrise Breakfast
Wake up early to watch the beautiful sunrise beyond the horizon. Plus, prepare a nice breakfast, like fresh fruit, pastries, and hot coffee, and enjoy it as the morning dawns. The calmness of the dawn makes it the ideal environment for private chats and special times.
4. Love Letters in the Wilderness
During your camping vacation, you can trade handmade love notes or diary entries. Spend some quiet time discussing and writing down your feelings for each other. Then, exchange letters openly or privately. This is an honest way to strengthen your bond.
5. Campfire Stories and Songs
Come together around a campfire to tell personal stories, remember precious moments, or even sing your favorite songs. Bring a guitar or other portable instrument to provide romantic background music to your evening. A roaring campfire creates the perfect atmosphere for music and storytelling.
6. Adventure Together
While camping, you can enjoy many types of adventure activities together. Take a romantic bike ride, go trekking together, or canoe across a tranquil lake. Plus, exploring the natural beauty of an area while camping can be fun and create lasting memories.
7. Couples Camping in a Cozy Tent
Choose a tent that is comfortable and spacious for a restful night's sleep. Bring an extra mattress, a cozy blanket, and a comfortable bed or sleeping pad. Couples can enjoy cuddling up in the warm, cozy tent to create a romantic mood.
8. Outdoor Movie Night
Use a portable projector screen or hang a white sheet between two trees to create an outdoor movie theater. Enjoy a cozy movie night with popcorn, a blanket, and your favorite treats. It's a special way to blend the comfort of movie night with the charm of being outside.
Benefits Of Couples Camping
Couples camping has countless benefits when you are surrounded by the beauty of nature. Camping together provides a unique and enjoyable experience for couples, from enhancing your relationship to creating lasting memories.
Spending Time Together
Couples get the option to spend valuable time together by going on an outdoor adventure. Couples can enjoy a private and serene time away from the stresses of daily life, allowing them to connect more deeply.
Millennials, who make up 50% of campers, value the simple pleasures of spending time in nature with their significant other. Many of them hike or backpack while camping, giving them the chance to explore and take in a different environment than they would at home.
Exciting And Adventurous
Couples camping excursions provide an exhilarating adventure and the sensation of being surrounded by nature. Several hobbies can strengthen your relationship while giving you an adrenaline boost, from fishing to night walks.
Making memories and strengthening your relationship with your lover while camping together is a terrific way to explore scenic lakes or untamed countryside. Sharing this extraordinary adventure will guarantee that you return home with tales and memories that will last a lifetime!
Possibility To Enjoy Nature
Camping with your significant other can be a wonderful way to unwind and savor the beautiful outdoors. Being surrounded by nature and taking in the clean air has a distinct quality. Spending time in nature has been proven to reduce stress, improve focus, and even stimulate creative thinking, making it the ideal environment for reuniting with your partner while unplugging from the stresses of daily life.
Together, you may enjoy the beauty of nature while discovering more about one another as you hike along winding pathways or paddle across a lake. You may certainly make this journey one of the most treasured experiences ever as there are no restrictions or outside distractions from modern life!
The Best Types of Camping Couples
Whether you're looking for an adventure or a romantic getaway, camping offers a variety of opportunities for couples to interact and create lasting memories.
Car Couples Camping
Car camping provides an ideal opportunity for couples to reconnect. It's easy to put together and offers all the benefits of traditional camping but with a romantic touch.
Consider a cozy evening spent in your tent, covered in a warm sleeping bag and cuddled up under the stars. Consider finding a peaceful campsite and decorating it with soft, twinkling fairy lights to add to the romantic atmosphere. Bring your favorite music and transform your campsite into a romantic date night escape.
Couples Camping In a Cabin
Cabin camping is an excellent option for couples seeking a romantic camping vacation! It is the perfect blend of casual and outdoors, allowing you to enjoy the beauty of nature while remaining comfortable at home. Imagine retiring to your private cabin after a day hiking beautiful trails or fishing on the lake.
The lack of travel options has led to an increase in the number of couples seeking a camping experience, making cabins even more popular. The cabins, whether fully glazed or with rustic charm, offer lots of possibilities to spend quality time together, sitting around the bonfire enjoying spectacular views, and exchanging stories late into the night.
Glamping Couples Camping
Couples can enjoy the outdoors in luxury and comfort by going glamping. While glamping is more luxurious than traditional camping, it allows couples to immerse themselves in nature and see some incredible sites.
Glamping (short for glamorous camping) is the ideal option for couples who appreciate the beauty of nature while still wanting a touch of luxury. Glamping destinations offer luxury accommodations like cozy cabins, safari tents, or even treehouses, which include amenities like king-size mattresses, private bathrooms, and delicious dining options. This method of camping allows you to be in nature without compromising on comfort.
Couples Camping On The Beach
Camping on the beach is a great way for couples to enjoy the great outdoors and want to make Tent Camping more Comfortable. There are countless fun activities to do while you explore your natural surroundings, from romantic walks on the beach and watching the sunset to building sandcastles and swimming in the ocean.
Top Romantic Couples Camping Destinations
Camping is more than just a vacation; It's a chance to break free from everyday hassles and reconnect with your partner and nature.
There is a diverse range of camping destinations in the United States, each with its distinct charm and romantic appeal.
These camping locations are ideal for couples looking for a wonderful outdoor experience, whether you prefer the tranquility of the beach, mountainous landscapes, or tranquil forests.
1. Acadia National Park, Maine
Acadia National Park, nestled along Maine's rugged coast, provides a spectacular backdrop for a romantic camping vacation. Camp along the water, hike the park's scenic trails, and don't miss the sunrise over Cadillac Mountain, the highest point on the East Coast. Acadia, with its stunning cliffs and tranquil lakes, offers couples plenty of opportunities for both relaxation and excitement.
2. Big Sur, California
Big Sur on California's Highway 1 is a must-see for couples looking for breathtaking coastal grandeur. Camp near cliffs overlooking the Pacific Ocean under the shade of towering redwood forests. Natural hot springs, hikes to hidden springs, and private sunsets over the ocean are all available. It is a place where the rocky coastline meets the tranquility of the forest, making it a perfect romantic holiday.
3. Shenandoah National Park, Virginia
Escape to Virginia's Blue Ridge Mountains and immerse yourself in the tranquil beauty of Shenandoah National Park. Choose from several campgrounds, each with its unique personality, and enjoy spectacular views of high hills and lush forests. Hike the Appalachian Trail, spot wildlife, and stare at the campfire. Shenandoah's tranquil atmosphere is ideal for couples who want to relax together.
4. Lake Tahoe, Nevada/California
Lake Tahoe's spectacular mountain views make it a perfect spot for a romantic camping excursion. Spend your days hiking, paddleboarding, or relaxing on the beach amid crystal-clear waters. Enjoy a nice campfire and stargazing in the evening. For couples, Lake Tahoe offers the ideal combination of outdoor excitement and leisure.
5. Glacier National Park, Montana
Glacier National Park, sometimes called the "Crown of the Continent," is a paradise for adventure lovers and lovers. Drive the picturesque Going-to-the-Sun Road and camp among pristine lakes and craggy peaks. Explore the many hiking trails that lead to breathtaking views, while keeping an eye out for the rich wildlife. Glacier National Park is the epitome of a romantic wilderness vacation.
6. Key West, Florida
Key West offers a unique option for couples looking for a tropical camping adventure. Camp on the beach and enjoy the tranquil island atmosphere. Discover gorgeous coral reefs by snorkeling or diving, and don't miss the famous Key West Sunset Festival. The mild climate and picturesque surroundings make it an ideal resort for couples throughout the year.
Frequently Asked Questions
Q1: What are some essentials for a romantic camping vacation as a couple?
A comfortable and spacious tent, comfortable bedding such as sleeping bags or air mattresses, portable lighting for ambiance, a well-prepared camping menu with your favorite foods and beverages, a well-planned itinerary with activities that include, that you both enjoy, and a sense of adventure and togetherness are essential to a romantic camping holiday as a couple. To ensure a safe and enjoyable trip, bring essentials like insect repellent, sunscreen, and a first aid kit.
Q2: Are there any safety considerations couples should keep in mind while camping romantically?
Safety is important when going romantic camping. Keep someone informed of your camping plans and whereabouts at all times. Include a first aid kit, a flashlight, and emergency supplies in your packing list. Keep an eye out for local species and follow any safety advice given by park officials. Check the weather forecast and dress accordingly to ensure a safe and enjoyable experience.
Q3: What if I'm new to camping? Are there beginner-friendly romantic camping ideas?
Absolutely! If you're new to camping, start by car camping in a well-established campground with facilities like restrooms and showers. This allows you to appreciate the splendor of nature without the difficulties of backcountry camping. Plan easy outings, cook simple but delicious campfire meals, and focus on setting a good ambiance in your tent with comfortable bedding and soothing lighting. As your confidence grows you can gradually try more adventurous camping adventures together.
Q4: How can I ensure my camping trip stays romantic, even with unexpected challenges like bad weather?
Stay close to your tent, share warm blankets, and enjoy intimate moments under the soothing glow of lanterns to keep your camping holiday enjoyable despite unexpected obstacles like severe weather. Use the rain to reconnect with loved ones through meaningful conversations, card games, or even a warm picnic. The secret is to adapt and find romance in the unexpected, resulting in long-lasting memories.
Conclusion
Camping allows couples to connect with nature in unique ways. These romantic camping ideas can help you create wonderful memories and enhance your love while being surrounded by the beauty of nature.
Camping can be the ideal setting for romance under the stars, whether it's enjoying a candlelit dinner, gazing at the stars, or exchanging love letters.
Pack your camping gear, plan a romantic excursion, and rekindle the flame of love in the great outdoors on your next camping trip.