With long lines, security checks, and crowded terminals, traveling through airports can be a stressful and draining experience. But what if there was a haven of peace and comfort in the middle of the mayhem of plane travel? Enter airport lounges, those elite locations where passengers may escape the crowds, relax in elegance, and make use of a variety of facilities.
Airport lounges are an important component of contemporary flight travel. There is also a car travel option for solo camping or couple camping lovers. Providing a break from the frequently stressful environment of airports. These special areas are intended to give tourists a relaxing and productive environment while they wait for their flights. However, their value goes beyond just comfort. By providing a variety of facilities and services, they may considerably improve the entire trip experience.
What Are Airport Lounge?
Airport Lounge are designated areas within airports that offer an oasis away from the hustle and bustle of the terminals. These lounges provide a plethora of amenities, such as comfortable seating, complimentary food and beverages, Wi-Fi access, and private work areas. Travelers can access airport lounges by holding premium tickets, achieving a certain level of airline loyalty status, or purchasing lounge memberships.
Benefits of Using Airport Lounges
Airport lounges feature pleasant seats, allowing customers to unwind and rest before or between flights.
Productivity because many lounges have workstations, free Wi-Fi, and charging stations, they are great for business travelers who need to catch up on work.
Dining options because most lounges include complimentary food and beverages, you never have to worry about where to eat during a stopover.
Entertainment lounges frequently feature entertainment alternatives, ranging from reading materials to televisions, to keep you engaged while you wait.
Privacy lounges are quieter and less busy than airports, making them ideal for business or relaxing.
Access to basic amenities such as showers, luggage storage, and flight change help.
Types of Airport Lounges
There are several different types of Airport Lounge, each with its own set of features and benefits. Here are some of the most common types of airport lounges you might encounter:
Airline-operated lounges
Exclusive areas supplied by airlines to their premium guests are called airline-operated lounges. First-class, business-class and high-status frequent travelers frequently have access to these lounges. They often provide a wide range of amenities, such as cozy seats, food choices, and occasionally even spa facilities.
Pros:
Having a direct connection to the airline guarantees a constant level of service quality.
Frequently opulent and well-equipped.
Exclusive access for regular travelers and premium guests.
Cons:
Passengers in economy class have restricted access.
may call for a certain ticket class or premium frequent flyer status.
Options for membership
Elite designation for regular travelers with the airline.
A business- or first-class ticket.
Some airlines have membership systems for paid lounges.
Independent lounges
Independent lounges are unconnected to any one airline. No matter what airline or ticket class a traveler is on, they are accessible. These lounges are accessible in a number of ways, such as day passes and lounge membership schemes.
Key characteristics
Usually costs money or is accessible to members of a membership program for all tourists.
May provide a wide variety of facilities and services.
They are separately run, therefore their quality and experience may vary.
Access Choices
Priority Pass a network of independent lounges is accessible to subscribers of this worldwide lounge membership program.
Using the app LoungeBuddy, passengers can find, reserve, and enter airport lounges all around the world.
Additionally, some lounges provide pay-per-use alternatives for a single visit.
| Criteria | Airline-Operated Lounges | Independent Lounges |
| --- | --- | --- |
| Affiliation | Associated with a specific airline. | Not affiliated with any particular airline. |
| Access | Premium passengers and frequent flyers. | Open to all travelers through various methods. |
| Quality and Consistency | Generally consistent quality and service. | Varies widely based on independent operation. |
| Availability | Limited to certain passengers. | Open to all travelers based on access methods. |
| Access Methods | Elite frequent flyer status, premium ticket, paid membership. | Lounge membership programs, day passes, pay-per-use. |
How Long Can You Stay in an Airline Lounge?
The length of stay in an airline lounge varies depending on the lounge's specific policy and your type of access. Typically, travelers can stay for up to three hours before their flight. However, some lounges may have different time limits. Lounge memberships or day passes may also limit your stay to a specific number of hours or visits per year. In certain cases, lounge staff may allow extended stays for passengers with long layovers or delayed flights.
How to Get Into Airport Lounge
There are several ways to get access to Airport Lounge. And the method that works best for you will depend on your travel plans and preferences. Here are some of the most common ways to get into airport lounges:
Premium Ticket or Status: Traveling on a premium ticket (business or first class) or having a high airline loyalty status can grant you access to the airline's lounge.
Lounge Memberships: Airlines and third-party companies offer lounge memberships that provide access to a network of lounges worldwide. You can purchase annual memberships or one-time day passes through programs like Priority Pass, LoungeKey, or Delta Sky Club.
Credit Cards: Some credit cards offer lounge access as a perk. This benefit may require an annual fee or have other eligibility requirements.
Elite Programs: Certain credit card companies offer elite programs with exclusive benefits, including airport lounge access.
One-Time Passes: If you don't travel frequently, you can purchase a one-time pass to a lounge. Airlines or third-party companies like LoungeBuddy often offer passes for specific lounges.
It's important to note that the availability of lounge access will vary depending on the airline, the specific lounge, and your eligibility. It's a good idea to research your options in advance and check the lounge's policy to ensure you meet the requirements for access.
Airport Lounge Perks And Features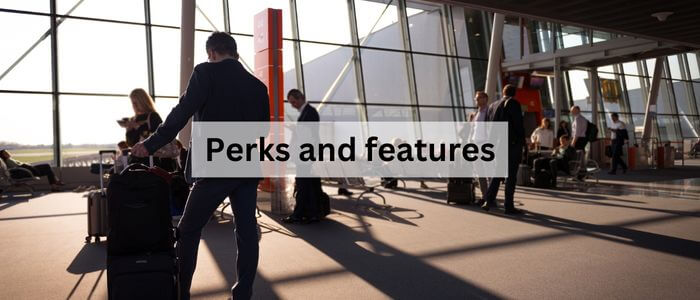 Airport Lounge offers a range of perks and features that can make your travel experience more comfortable and enjoyable. Here are some of the most common perks and features you might find in an airport lounge:
Comfortable Seating: Lounges provide cozy seating options like armchairs, sofas, and recliners for your relaxation.
Food and Beverage Service: Most lounges offer complimentary snacks, light meals, and a variety of beverages, including alcoholic options.
Wi-Fi Access: Stay connected with free Wi-Fi, so you can catch up on work or entertainment.
Power Outlets and USB Ports: Lounges have plenty of outlets and USB ports to keep your devices charged and ready.
Private Work Areas: Some lounges offer private workspaces equipped with desks, computers, and printers.
Shower Facilities: Refresh after a long flight or layover with access to shower facilities.
Lounge Attendants: Dedicated staff can assist with bookings, itinerary questions, and dining reservations.
Entertainment Options: Lounges may have TVs, magazines, and newspapers to keep you entertained.
Priority Boarding: Access to lounges may grant you priority boarding for a seamless start to your journey.
Does Airport Lounge Have Food?
Yes, most Airport Lounge offers food and beverage service as one of their primary amenities. The type and quality of the food and beverage offerings can vary depending on the lounge. The airline, and the time of day.
Typically, lounges offer a variety of complimentary snacks such as fruits, nuts, cookies, and chips, as well as hot and cold beverages, including coffee, tea, soda, juice, beer, wine, and cocktails. Some lounges may also offer light meals, such as sandwiches, soups, salads, and finger foods.
In addition, some lounges have dedicated dining areas with a full-service bar, a chef preparing made-to-order dishes, or a buffet-style selection of hot and cold dishes. These options can be particularly appealing for travelers who have long layovers or flights.
It's worth noting that some lounges may have restrictions on the availability of food and beverage service depending on the time of day or the level of access you have. For example, certain lounges may only offer a full breakfast service in the morning or limit the availability of alcoholic beverages during certain hours.
Overall, airport lounges can be a great option for travelers looking for a comfortable and convenient place to relax and enjoy a meal or snack before their flight.
How to Access Airport Lounge
Business and First Class Tickets: Passengers flying on business or first-class tickets usually have automatic access to the airline's lounge.
Airline Loyalty Programs: Frequent flyers with elite status in an airline's loyalty program may enjoy complimentary lounge access.
Priority Pass: This independent membership program grants access to a vast network of airport lounges worldwide.
Credit Card Memberships: Some premium credit cards offer complimentary lounge access as a cardholder benefit.
Pay-per-Use: Many lounges allow access on a pay-per-use basis, which is an excellent option for occasional travelers.
Is It Worth Paying for Lounge Access?
Deciding if Airport Lounge access is worth it depends on your travel habits and preferences:
Frequency of Travel: Frequent travelers may find lounge access valuable for comfort and amenities during layovers.
Length of Layovers: Long layovers or flight delays can be more enjoyable with lounge access.
Type of Ticket: Premium ticket holders may already have lounge access included in their fare.
Lounge Options: Research the lounges available to you and their amenities to see if they align with your needs.
Cost: Lounge access costs vary. Consider the value you'll receive from the amenities compared to the price.
Overall, paying for lounge access can be a worthwhile investment for travelers who prioritize comfort, convenience, and privacy while traveling. If you're unsure if it's worth paying for lounge access. You can try a one-time pass or a trial membership to experience the lounge amenities for yourself.
Tips for Making the Most of Your Lounge Experience
To fully enjoy your time in an airport lounge, consider the following tips:
Check Lounge Eligibility: Ensure you're eligible for lounge access based on your airline status, credit card, or membership.
Arrive Early: Arriving a bit early allows you to maximize your lounge time and avoid any potential overcrowding.
Stay Informed: Keep an eye on your departure gate and boarding time to avoid missing your flight.
Respect Lounge Etiquette: Maintain a quiet and respectful atmosphere by following lounge rules and being considerate of other guests.
The Top Airport Lounge Around the World
FAQs
Here are some frequently asked questions (FAQs) about Airport Lounge:
1. Who Can Access Airport Lounge?
Access to airport lounges is typically restricted to certain groups of travelers, such as premium ticket holders, frequent flyers with elite status, or those who purchase lounge access separately. Some credit cards or memberships also offer lounge access as a perk.
2. How Much Does Lounge Access Cost?
The cost of lounge access varies depending on the airline, lounge, and level of access. Day passes can range from $25 to $75, while annual memberships may cost between $300 and $600.
3. What Amenities Are Typically Offered in the Airport Lounge?
Airport Lounge commonly offers comfortable seating, food and beverage service, Wi-Fi access, power outlets, private work areas, shower facilities, lounge attendants, and entertainment options.
4. How Long Can I Stay in an Airport Lounge?
The length of stay in an Airport Lounge depends on the lounge's policy and your access type. Typically, access is granted for a limited period, such as three hours. Extensions may be allowed for passengers with long layovers or flight delays.
5. Are Airport Lounge Worth It?
The worth of Airport Lounge depends on your travel preferences and needs. Frequent travelers or those with long layovers may find lounge access valuable. However, for infrequent travelers or short layovers, the cost may not be justified. Research your options to determine if lounge access aligns with your requirements.
Conclusion
Airport Lounge provides a world of comfort, convenience, and indulgence to enhance your travel experience. Whether you're looking to relax, work, or enjoy gourmet cuisine, airport lounges have you covered. Make your journey soar in style with exclusive access to the hidden gems of airport lounges. Remember to consider your travel frequency and needs when deciding if lounge access is right for you. Prepare to unlock a new level of luxury and relaxation at every turn with airport lounges!
You May Also Like: